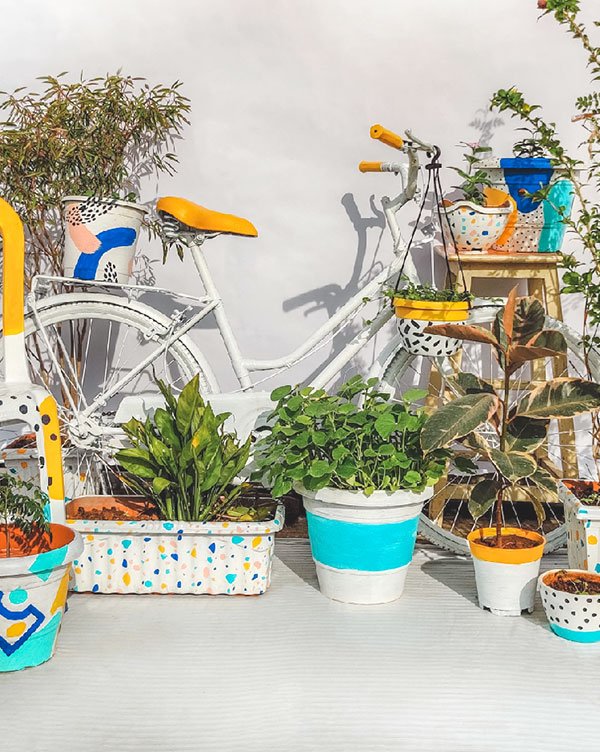 Paint it all
Nothing can stop artists. Not even the end of the world. A few months ago, all of humanity was consumed by a pandemic that brought many lives to a standstill. With a nationwide lockdown that demanded that all its citizens in the non-essential sectors stay at home, people had to find new ways of doing things within the confines of their homes. Neha too found a way to fuel her artistic passion by deciding to paint it all by doing things differently!
She shared the idea with Co-founder Anirudh and me. I'm Simba, the resident creative at Hey Doode! As soon as she told us about wanting to paint it all, we were very thrilled. Our collective excitement led us to find out that there were a lot of Royal paints and Acrylic paints lying around at home. Knowing that both of these paints can be used across multiple surfaces we devised a plan to use it on plastic, fibre, metal. We used the Royal paint as a base coat for the garden pots, a 15-year-old ladybird cycle and a 5-year-old chair. The cycle was Neha's first cycle as a teenager which is why she had a very close bond with it.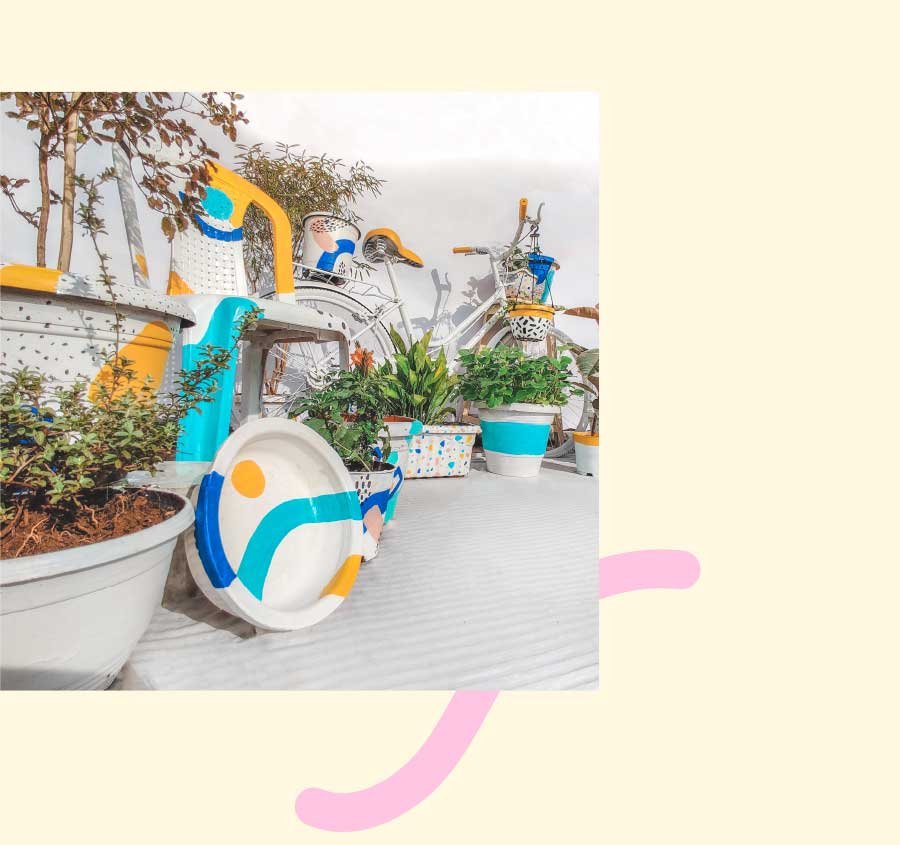 We generously used white colour paint as a base coat. The white colour paint dried up in less than 10 minutes. We then designed using two colours of acrylic paints to make a pattern. Since both Yellow and Blue are originally transparent colours when they come out of the can, we had to add a lot of white paint to make it opaque.
But this wasn't just a painting project. Since Neha and Anirudh have always been passionate about growing plants, we wanted to mix art with gardening to create a unique one of a kind nursery in the course of the lockdown. So, I sat back and watched them as they carefully placed each pot on the stool and painted it with care. Our garden has always had a variety of plants and I think gardening not only made our office beautiful but it's always helped us be in a good space mentally. Our plant family includes Peace Lilly, Curry Leaves, Fern, Tulsi, Million Hearts Plant, Spider Plant, Aloe Vera and Jasmine among others. Having an eclectic variety not only makes our garden interesting but it also helps us gain more health benefits.
Enough about the plants, I'll tell you more about the paints. We painted all of this in a course of 48 hours spread over 6 days. Every evening after a day of handwork painting helped all of us unwind and release our happy hormones. It helped us with our mental fitness. And it wasn't just us who diligently painted every evening, we were joined by Anirudh's sister, Devshree who decided to become a hobby artist for a week. She works as an executive with Hafele Studio otherwise but she too loved the break from the monotony and was more than happy to paint with us every evening.
Here are the results we achieved after painting a little bit every day. We decided to use only two bold colours yellow and blue to stand out on the white, extending the Hey Doode! Brand language.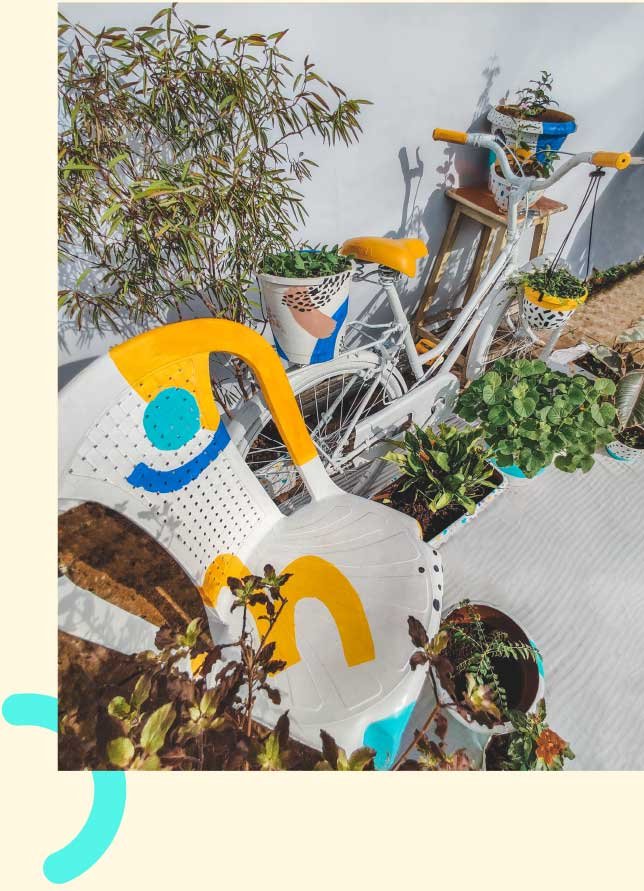 Painting objects was not only a cathartic and meditative experience for us, but it also helped us stay mentally fit. But the best outcome it had was that we got a very cute terrace garden.
We hope all of you take up painting and improve your mental health during the lockdown. Neha has advocated mental health awareness for the last 5 years since her college and she feels that simple artistic
activities can help in enhancing a person's mood. If you're a first-timer, you should know painting is extremely easy. Pick a small object and paint with one vibrant colour. You'll not only feel happier by the end of it but also own your very first piece of art.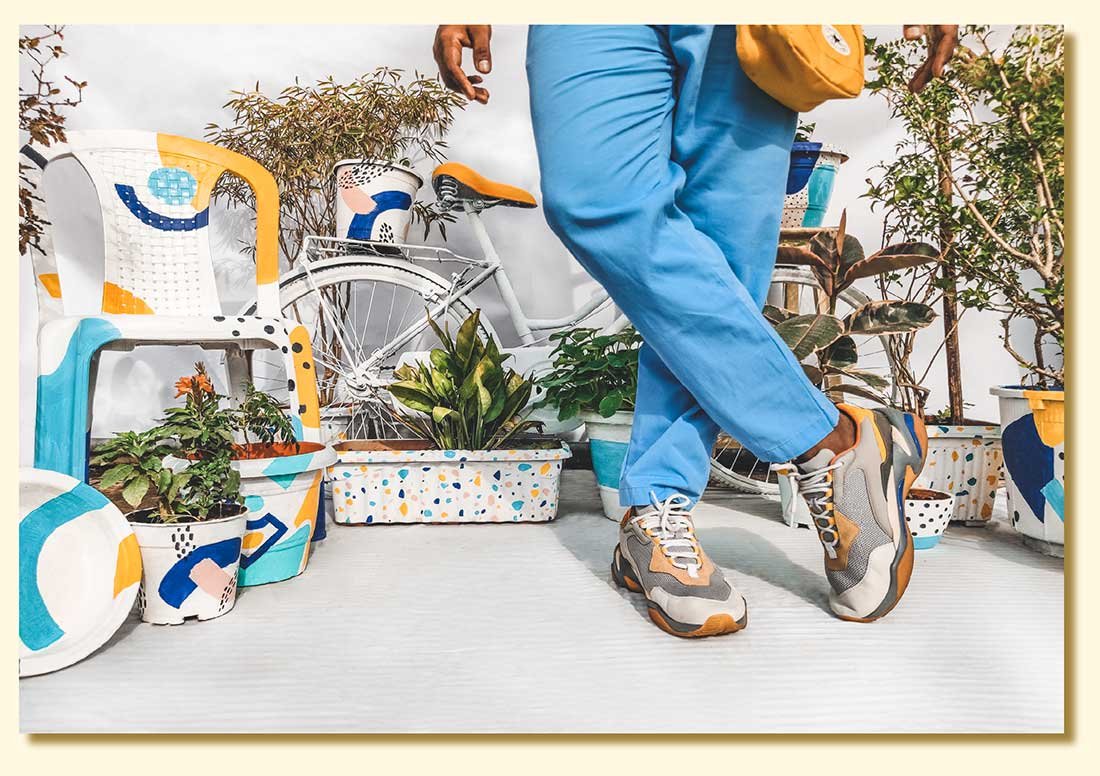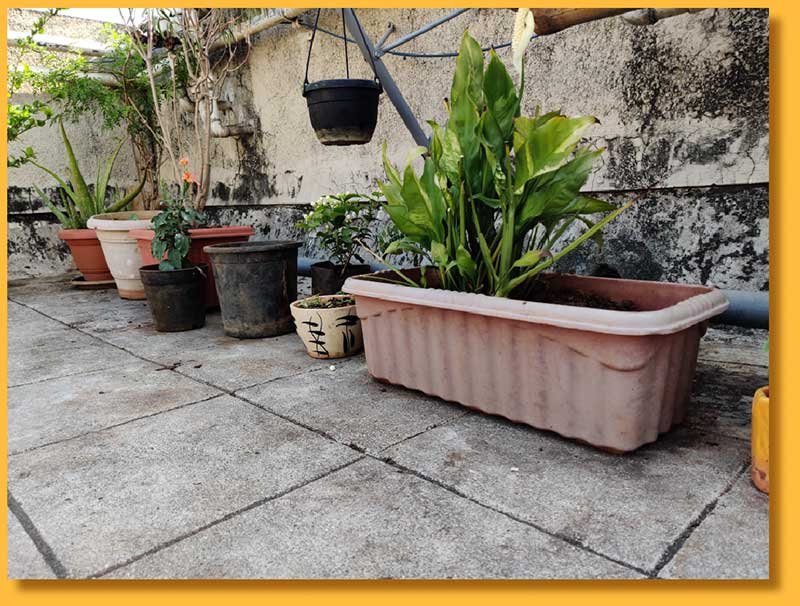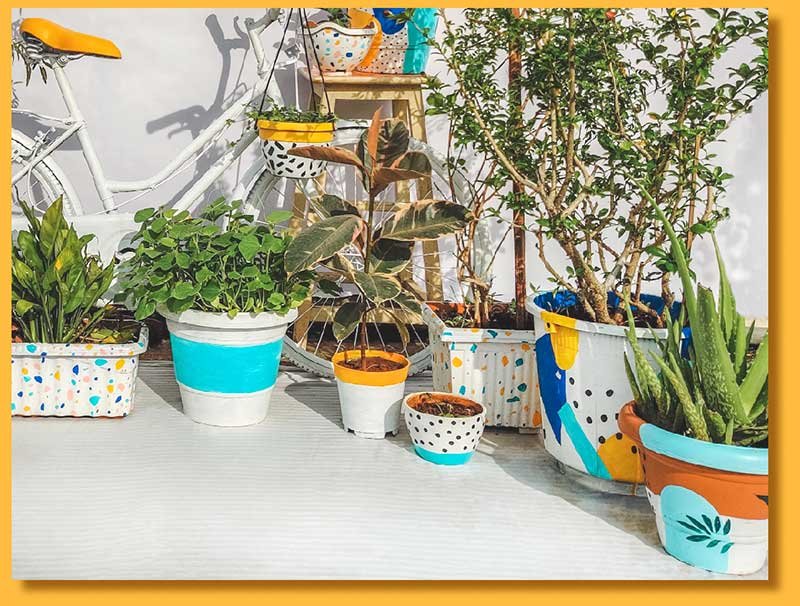 If you liked being a part of our immersive painting experience, do write to me at simba@heydoode.com. We are going to be compiling the best paint it all stories from all over the country and feature it on our page.